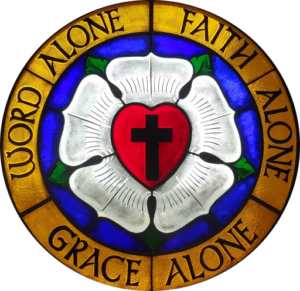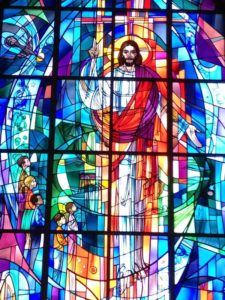 Lenten Soup Suppers
Let's break bread together each coming Wednesday at 6:00 pm during Lent beginning on March 13th and continuing each Wednesday up to and including Wednesday April 10th. As usual, Grace togetherness can be counted upon to bring a side item to share such as fruit, a salad, veggies or a dessert. At 7:00 pm we will move into the sanctuary for worship together and to learn more of Jesus' way to the cross and ultimately to our redemptive freedom. Check the Grace Newsletter for more details including how you can in share in this season of Lent.
Paper Recycling
In the east parking lot of the church sits a paper recycling container, resembling a dumpster. Consider discarding any papers that you want to dispose of in this container.
"They suddenly recognized that God is a living, personal presence, not a piece of chiseled stone. And when God is personally present, a living Spirit, that old, constricting legislation is recognized as obsolete. We're free of it

." —
The Message Bible – 2 Corinthians 3:17
Having some fun with Grace friends during St. Patrick's Day fellowship hour.
Welcome to Grace Lutheran
We invite you to worship with us this Sunday!
We are part of the North American Lutheran Church (NALC) and are committed to the authority of the Bible as the inspired Word of God.
We are located at 410 E. Pease Avenue in West Carrollton, Ohio. Our service is at 10:30 a.m. We celebrate communion each Sunday and gather together for lunch afterward.
A place to call home!
If you wish to visit with our pastor, please call our Administrative Assistant, Jennifer, at 937-859-3941 to schedule an appointment.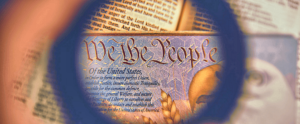 In-Depth Class on U.S.
Constitution at Grace
How much do you understand about the American Freedoms guaranteed to citizens like you and me?
Join your friends and neighbors for this highly-acclaimed 12-week course
on the Constitution. The course will be taught by Ricki Pepin a former employee of the FBI. She is a published author and international lecturer. Her primary passion is teaching citizens how to work together to restore America's foundations.
To that end, she has been leading courses on the U.S. Constitution, in collaboration with the Institute on the Constitution, for over 17 years. Her ultimate desire is to bring a return to limited, Constitutional government where everyone has the FREEDOM to discover and walk out their own God-given destinies of Life, Liberty and the Pursuit of Happiness. In addition to her work with the Institute, she has published two books; God's Health Plan–the Audacious Journey to a Better Life and The POWER of Hope.
The first class begins the first Sunday after Easter, April the 28th. Click HERE for schedule details and how to sign-up. Also find course outline on the "Small Groups" hot spot above.
Wednesday Evening Bible Study
Replaced by Vesper Services at 7:00 pm Through Lent
9:00 AM Adult Sunday School Study Change During Lent
A video study of "All Things New

" begins March 10
See "Small Groups" for details.
The North American Lutheran Church has also released its NALC Walk of Faith app. You can get the free NALC Walk of Faith app in the Apple App Store or Google Play. Be ready for Lent with the NALC Walk of Faith app and tell others about it. It's entirely free. You can also receive daily devotions via text, email or Facebook. Learn more at
thenalc.org/lent.
Wednesday Evening Lenten Services Every Wednesday evening beginning March 13th and concluding on April 10th will be our Lenten/Vespers service at 7:00 p.m. "Telling Their Stories: Encounters with Jesus" is a Lenten monologue drama series told from the perspective of those who originally participated in the Passion of Our Lord. Our hope is that you will be able to join us for the soup supper at 6:00 p.m. followed by the service.
Freewill donations from all Lenten soup suppers at Grace will be sent t

o t

he group, United Evangelical Mission in India. The United Evangelical Mission is an international and national mission organization; they view mission as a holistic commission, and they cooperate to carry out their task. Therefore, evangelism to change people's lives, advocacy, development and partnership are integral parts of their mission to spread the gospel.
Women's Prayer & Bible Study
The Women's Friday Prayer & Bible Study group will begin a new study entitled, "The Prodigal God" by Timothy Keller at 9:15 a.m. on March 29th. The class will conclude on Friday, May 10th. The study requires weekly book reading and answering a few questions. You may purchase the book yourself or contact Roseann Costantino to get one for you.