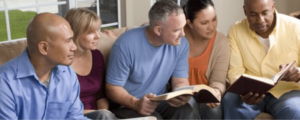 Christian Education and Small Groups
The purpose of the Christian Education and Small Groups Ministry team is to foster discipleship through the study of the Bible and Christian theology, through fellowship, service, and prayer. Information on current studies is available in th

e

Tidings of Grace church newsletter.
Wednesday Evening Vespers an

d Adult

Sunday School
Class Follow-up Study Through Lent
Wednesday Evening, March 4 at 7:00 pm, we will begin our study of "The Day I Met Jesus: The Revealing Diaries of Five Women from the Gospels."
Many of you might remember that last year, Grace members presented fictional first-person readings inspired by the gospel accounts of six men who encountered Jesus.
This year, it's the ladies' turn! Grace members will present fictional first-person readings inspired by gospel accounts of five women who encountered Jesus.
But, our consideration of these lives will not stop there. On the following Sunday, we will read the gospel accounts of these women and then discuss their story together during the Adult Sunday School Class. Purchase of the book is not required to participate in the class, but they are available online for $11. Looking forward to seeing you there.
Pastor Phil
C
hildren's Sunday School is offered during the worship service. Children leave the service afte

r

the childrens moment and rejoin worship prior to communion.
Wednesday Evening Bible Study
Wednesday Evening Bible Study meets from 7 pm to 8:30 pm in the fellowship hall.
Friday Morning Women's Bible Study
This Bible Study Group meets at Grace each Friday from 9:30 am to 11:30 am.
Women of Grace
10:30 a.m. – Meetings, held on the fourth Monday of each month, are open to all women of the congregation; informal with a brief inspirational presentation, light
refreshments, and plenty of fellowship.
The Women's Friday Prayer & Bible Study group will begin a new study entitled, "The Prodigal God" by Timothy Keller at 9:15 a.m. on March 29th. The class will conclude on Friday, May 10th. The study requires weekly book reading and answering a few questions. You may purchase the book yourself or contact Roseann Costantino via 937-623-1203 (text only), or e-mail at roseanncostantino@gmail.com if you'd like her to purchase a copy for you.he Women of Grace meet monthly on the third Monday of the month at 1:30 p.m. in the church parlor.
10:00 a.m. – Meeting, at Grace, the first and third Saturday of each month. All men are inviteto enjoy a time of prayer, Bible study, and fellowship.
Men's Bible Study
A new men's bible study group is now being formed.