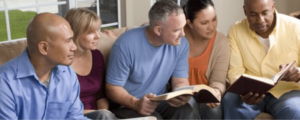 Christian Education and Small Groups
The purpose of the Christian Education and Small Groups Ministry team is to foster discipleship through the study of the Bible and Christian theology, through fellowship, service, and prayer. Information on current studies is available in th

e

Tidings of Grace church newsletter.
Wednesday Evening Bible Study: Every Wednesday at 7:00 pm, join us as we delve deeper into the scriptures. Study is led by Pastor Phil and you can attend in person or online. Join Zoom Meeting:
https://us02web.zoom.us/j/595370970?pwd=MGQzK0VVZXkwUFF4VzJ6aXJjMGhTQT09
Meeting ID: 595 370 970 Passcode: 023793
C
hildren's Sunday School is offered during the worship service. Children leave the service afte

r

the childrens moment and rejoin worship prior to communion.
Wednesday Evening Bible Study
Wednesday Evening Bible Study meets from 7 pm to 8:30 pm in the fellowship hall.
Friday Morning Women's Bible Study
This Bible Study Group meets at Grace each Friday from 9:30 am to 11:30 am.
Men's Bible Study
A new men's bible study group is now being formed.
The Under Somethings Bible study group will meet on the following Fridays over the next three months: February 18th, March 18th, and April 29th. We will continue our study of the basic doctrines of the NALC, and are looking at new topics for later this spring. Suggestions are welcome! For location details and more information, contact Aaron at 724.322.2449.
Adult Sunday School 9:00 – 9:50 a.m. Join us Sunday mornings at 9:00am as we explore God's word together. All are welcome.
On Fridays from March 11 through April 22, the Friday Morning Bible Study and Prayer Group will be using "Contemplating the Cross: A 40-Day Pilgrimage of Prayer" by Tricia McCary Rhodes. It is a devotional and a guide for group contemplation called Lectio Divina. The cost of the book is approximately $20. Please contact Roseann Costantino (937 434-2012) ASAP if you would like her to purchase a book for you.
The Men's Fellowship at Grace is beginning our third year meeting the first and third Saturdays of the month in the church at 10:00 AM to 11:30 AM. We have had a great time getting to know each other, praying for each other and studying the scriptures. Oh, and did I forget coffee and "Bill's" donut holes? If you haven't joined us, we would love to get to know you. We're very informal, friendly and you would fit right in. If you have any questions about the fellowship please ask John Michael or Bill Slusser. See you there.