Our worship services are "traditional and transformative."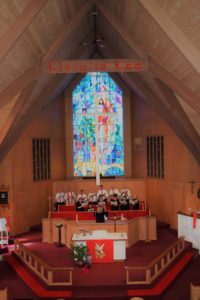 We worship together following the Lutheran tradition of congregational response to the various elements of the service.
Worship is also "transformative."
We seek to become more Christlike as a result of hearing the Word of God proclaimed and receiving the Sacrament of Holy Communion each Sunday. Our choir regularly leads us in worship and our music ministry is enhanced by members of the Dayton Philharmonic Orchestra.
We invite you to worship with us this Sunday at 10:30 a.m.
Worshippers at Grace Are Surrounded
by the Splendor of God Events
Captured in Stained Glass