Worship Services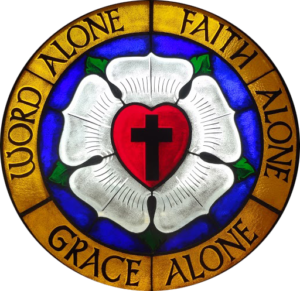 Pastor Phil Hohulin

7th Sunday in Easter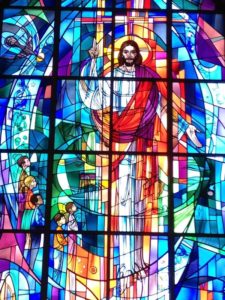 VIDEO ARCHIVES
A Kid's Moment Each Sunday During Worship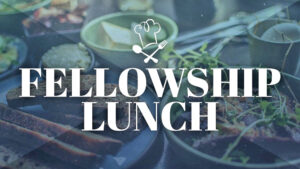 Join us after worship. Greet old friends and meet new ones.

Its all about Life-to-Life
We are to cultivate opportunities to teach others all that our Lord has commanded—to pass on the gospel witness of the apostles. Do we have confidence that we can do it? Jesus thought so, or He would not have gathered us together and put is here where we are. He would not have called us as he has.
Learn more abLout NALC's Life-to-Life
And catch this Life-to-Life teaser video
NALC Disaster Relief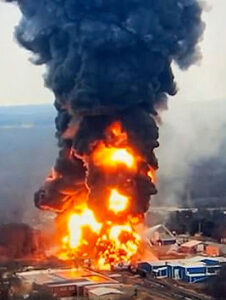 Grace Church Council approved a donation to the NALC Disaster Relief Fund to aid victims of the East Palestine train derailment. You can also make a personal donation by check payable to the North American Lutheran Church. Include on the check memo line: Disaster Response Fund. Mail your donation to:
North American Lutheran Church
PO Box 860565
Minneapolis, MN 55486-0565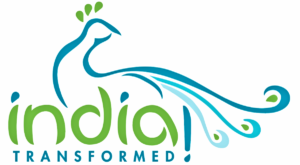 India Transformed, the primary global mission beneficiary at Grace, and official mission partner of the NALC, is the recipient of funds from the Lenten Soup Suppers, will be matched 6:1 through the generosity of some dedicated donors for a total of $4,596.00 to help push the new Christian College (UIC) building campaign over the finish line.
Since its founding in 1988, the ministry has had a great impact on spiritual and material poverty in India:
5,000+ impoverished children cared for and educated
1,800+ abandoned women vocationally trained and employed
1,500+ missionaries trained
1,600+ churches established
10,000+ graduates of K-12 Christian school
12 Million people reached with the Gospel
Our individual, group and congregational offerings over the past 11 years have directly supported all of the above to one extent or another.
This current endeavor expands the continuum of Christian education through college level, to reach young adults who will be future leaders in India. The campus, which resides adjacent to the Christian School (UIS), includes a missionary training center, 250 person chapel, and outdoor prayer fountain. Groundbreaking ceremony took place Jan 11. Following approval of all the permits, construction is expected to begin by end of Apr and will take about 9 months to complete. For more info contact Joe Costantino, or go to indiatransformed.org.
Join us for worship this Sunday at 10:30 a.m.
Grace is
located at 410 E. Pease Avenue in West Carrollton, Ohio.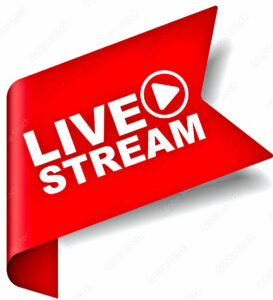 Note: Live Stream becomes available five (5) minutes before the worship service begins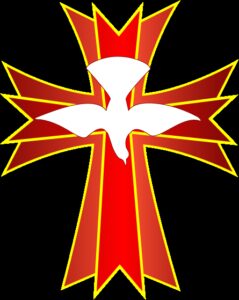 Sunday's Message: Seeing Red! "The coming of the Holy Spirit upon the church "Like Tongues of fire." Together we will see that the Spirit's job is to make a believer out of each one of us. Acts 2:1-21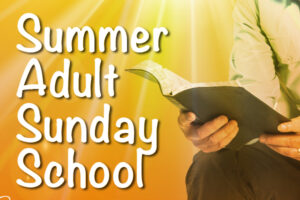 New Adult Sunday School Class


Book of James –
Begins Sunday June 4, 9:30 a.m.

This summer Pastor Phil will lead a "brief" study of the Book of James.
"Brief" for two reasons: 1) The series is only nine lessons long and
2) The class will only be a half hour in duration
We will begin promptly at 9:30 a.m., pray for those in need of faith,
read a passage and then have a short period of discussion.
Luther called James "The Epistle of Straw." Come find out why Luther was wrong!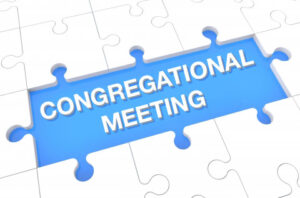 Plan to attend the Congregation Meeting following the June 4 worship service. The Council will be sharing a brief overview of the approved Strategic Plan for the Grace congregation.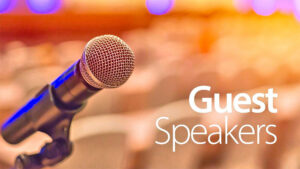 The Grace Benevolence-Outreach Team
gives aid and extended support to several Dayton area community service and ministry organizations. As a way of introducing the fellowship to these group activities and services, plans are set for ministry speakers from these groups to be our guests throughout the coming summer months. The speakers will explain their outreach ministries to the congregation during Grace fellowship luncheons following worship.
On May 21, Jane Snyder from Brigid's Path will be the first speaker. Brigid's Path supplies a residential treatment center for babies who have been exposed to drugs during their mother's pregnancies. They offer grace for the past, support for the present, and hope for the future.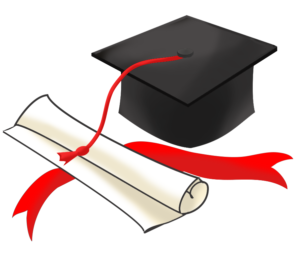 It's that time of year again. Soon graduation caps will be flying! We are honoring graduates Alexis Reinhart and her best friend since first grade, Madison Lovett.

The Agency on Aging is offering another Matter of Balance Class at Grace for anyone who is interested in becoming more aware of fall risks and ways to prevent falls. The class includes lecture, discussion, videos, gentle exercise and fellowship. It began Thursday, May 11 from 10:00 to 12:00 and will run for eight weeks. You can still join the class.
Any questions? Contact Jean at (937) 657-4918.

The Grace Chancel Choir begins its annual Summer Break on May 21st and resume its normal practice schedule in August. If there are vocalists and instrumentalists out there who would like to join others and fill in with music this Summer during worship, please contact a member of our music staff through our Administrative Assistant Brenda at 937-859-3941.
We now have a children's fellowship table during the congregational lunch following worship!

"Let the little children come to me, and do not hinder them, for the kingdom of God belongs to such as these." Matthew 19:44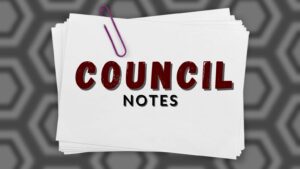 Grace Council Meeting
Highlights from the Monday,
April 17th meeting.
Council discussed the importance of assuring a safe and secure environment for the Grace congregation and our campus. The decision was made to conduct a risk assessment. Council reviewed and approved a proposal from John Lugiano of Mountain Protective Services, LLC (MPS) to conduct the assessment and recommend actions we might take to enhance our safety and security. We expect to begin the process within the next month.

Connections Team Liaison has revamped the bulletin board at the entrance/exit to the back parking lot. Sign-up sheets for all volunteer activities are now located in one spot. Please look to see if you can help with some of the activities.

Christian Education is hiring a second childcare provider for the Nursery. Anyone interested in applying for this position should make contact through our Administrative Assistant at 937-859-3941 to schedule an interview appointment.

We have received requests for representatives of area volunteer organizations to speak to our congregation. All requests should be coordinated through Council and our Administrative Assistant to assure we do not schedule speakers at the same time.
Enrich Your Life Learning Experiences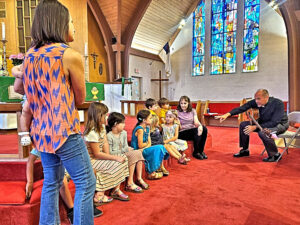 Young Leaners Sunday School Gatherings
with new and exciting lessons about the Bible and God's love for them.
Nursery -Ages up through 3
Children's Sunday School – Ages 4-7
Pre-Teen Ministry – Ages 8-12
All youth classes are held during church service time. The kids are released from the worship service right after the Children's Moment.
Wednesday Evening Bible Study
Our last Bible Study before Summer Break will be May 17. We will focus on the lectionary reading from the Book of Acts. Watch for scriptures in your email!!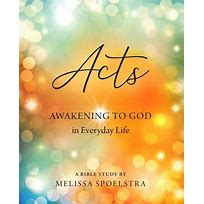 Friday Morning Bible Study and Prayer Group is using the book, "Acts – Awakening to God in Every Day Life" by Melissa Spoelstra.. The study is on Friday mornings from 9:30 am – 11 am and began on Friday January 7, and continuing through Friday June 2nd.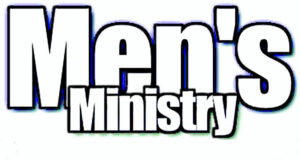 Men's Fellowship at Grace
is into its third year of gathering on the first and third Saturdays of each month in the church at 10:00 am to 11:30 am. We have a great time getting to know each other, praying for each other and studying the scriptures. Oh … and "Bill's" donut holes are great? If you haven't joined us, we would love to get to know you. We're very informal, friendly and you would fit right in. This month we're continuing our study of the Book of Acts.