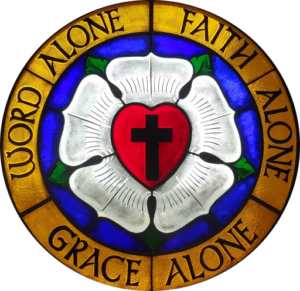 Sunday's Message
Epiphany 5 Luke 5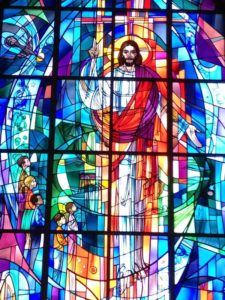 Congratulations goes out to Pastor Phil and Julie Watts on their engagement Sunday January 27th during Fellowship. Pastor Phil serenaded Julie with a beautiful song that he wrote for her, with Bill Slusser accompanying on violin. We wish them a lifetime of happiness and God's blessings!

Paper Recycling
In the east parking lot of the church sits a paper recycling container, resembling a dumpster. Please consider discarding any papers that you may need to dispose of in this container. When the container is emptied by a vendor, Grace receives a payment.
Thank you!
Mark your calendars and plan to attend an important congregation meeting on Sunday, February 24th immediately following the worship service. We will be reviewing the end of year financials, yearly reports, and current budget.
Welcome to Grace Lutheran
We invite you to worship with us this Sunday!
We are part of the North American Lutheran Church (NALC) and are committed to the authority of the Bible as the inspired Word of God.
We are located at 410 E. Pease Avenue in West Carrollton, Ohio. Our service is at 10:30 a.m. We celebrate communion each Sunday and gather together for lunch afterward.
A place to call home!
If you wish to visit with our pastor, please call our Administrative Assistant, Jennifer, at 937-859-3941 to schedule an appointment.
Wednesday Evening Bible Study
This study gathering includes video discussion questions, Bible exploration, and personal study and reflection materials for in-between sessions. Our hope is that you will join us at 7:00 p.m. This same study is also the happening in Adult Sunday Scho0l at 9:00 a.m. each Sunday morning.
Opportunities Await …

Sunday School and Bible Study
Shepherd's Ministry
Worship Assistant Ministry View Grace News
Sunday Worship Luncheon for details …
Monday Women of Grace
Wednesday Evening Bible Study
Friday Women's Bible Study
Saturday Men's Fellowship
special moments of joy at Grace
The Fellowship Committee is looking for people to volunteer to serve on the committee. We will meet on Sunday, February 17th in the Sunday School room at noon. We will be planning future fellowship events which include the Wednesday evening Lenten soup suppers, Maundy Thursday Carry-In, and kitchen cleaning weekend in May, plus future fellowship events. Please plan on attending. If you can not attend, but would like to be a part of the team, please contact Roseann Costantino at 937 623-1203 (text) or email.
Church Cancellations on WHIO Channel 7
You will now be able to find out if worship services or Bible studies and events have been cancelled via WHIO Channel 7. Look for "Grace Lutheran Church – West Carrollton."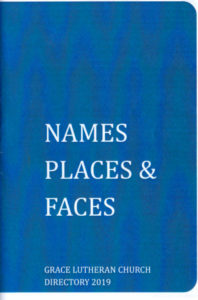 Our new congregational photo directory is now available. If you haven't picked up your copy yet, look for one in the Fellowship area. Thanks to Jon Cooper for the great photographs and to all who designed and produced it
.